Personal Skills Audit & Action Plan
Word Count: 1475                      Author: Kimi Ural                                Created: 2016                    Grade: 90% (1st)
Executive Summary
The main aim of the following report is to collect awareness of personal skills, analysing from what these have been developed from, and planning how to improve them. The main findings are, that learning is a cycle of 4 elements which are necessary to successfully develop skills. However, everyone has a preferred learning style which needs consideration to plan further steps for improvement. Considering these theories, one can build on their base skills as well as gaining new ones to improve employability in the industry. Recommendations include: Improving current skill levels through online courses, applying for higher job positions and more independent research.
Contents 
Introduction………………………………………………………………………………………2
Skills Audit………………………………………………………………………………………2-4
Self-Reflection…………………………………………………………………………………4-5
Action Plan………………………………………………………………………………………6-7
Conclusion…………………………………………………………………………………………7
References…………………………………………………………………………………………8
Appendices…………………………………………………………………………………………8
Introduction
The hospitality, tourism and events industry offers a wide range of job opportunities. The industry is build on customer service and requires good balance between hard and soft skills. the Development of skills in the industry makes finding jobs a promising aspect through the expected employment rate of 42.63 million by 2026 in Europe (WTTC, 2016). However, improvement can only be done after critical analysis and understanding of ones current skill levels and a clear knowledge of the needed industry skills.
Skills Audit 
Knowing that the tourism industry keeps developing and growing present, as well as future employees need to adjust their skills based on industry trends. According to a graph by People 1st (2011) 88% of UK employees say customer service skills will remain important in the future, another 69% believe management and leadership will be required. These show that the key industry skills will not change. However, the graph shows 48% of employers thinks effective use of social media is crucial and 42% believe e-marketing skills are needed. Analysing this data, it is obvious that the H&T industry is benefiting from technology. This requires managers and employees to have IT skills, general knowledge of social media and approach situations with an open mind. Skills based on this theory can be collected through any role in life, whether it is through employment, drastic life changes or education. The following table will show important skills I have collected before and during university as well as those that need development. It also explains where I have collected each skill and how it is transferable.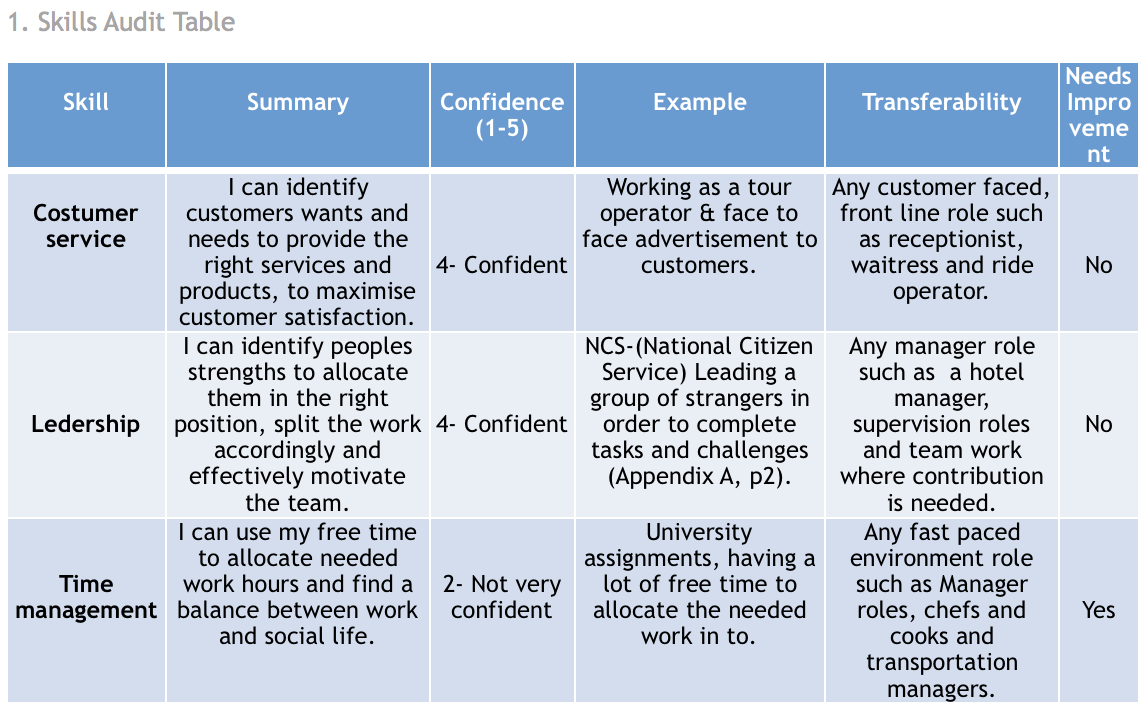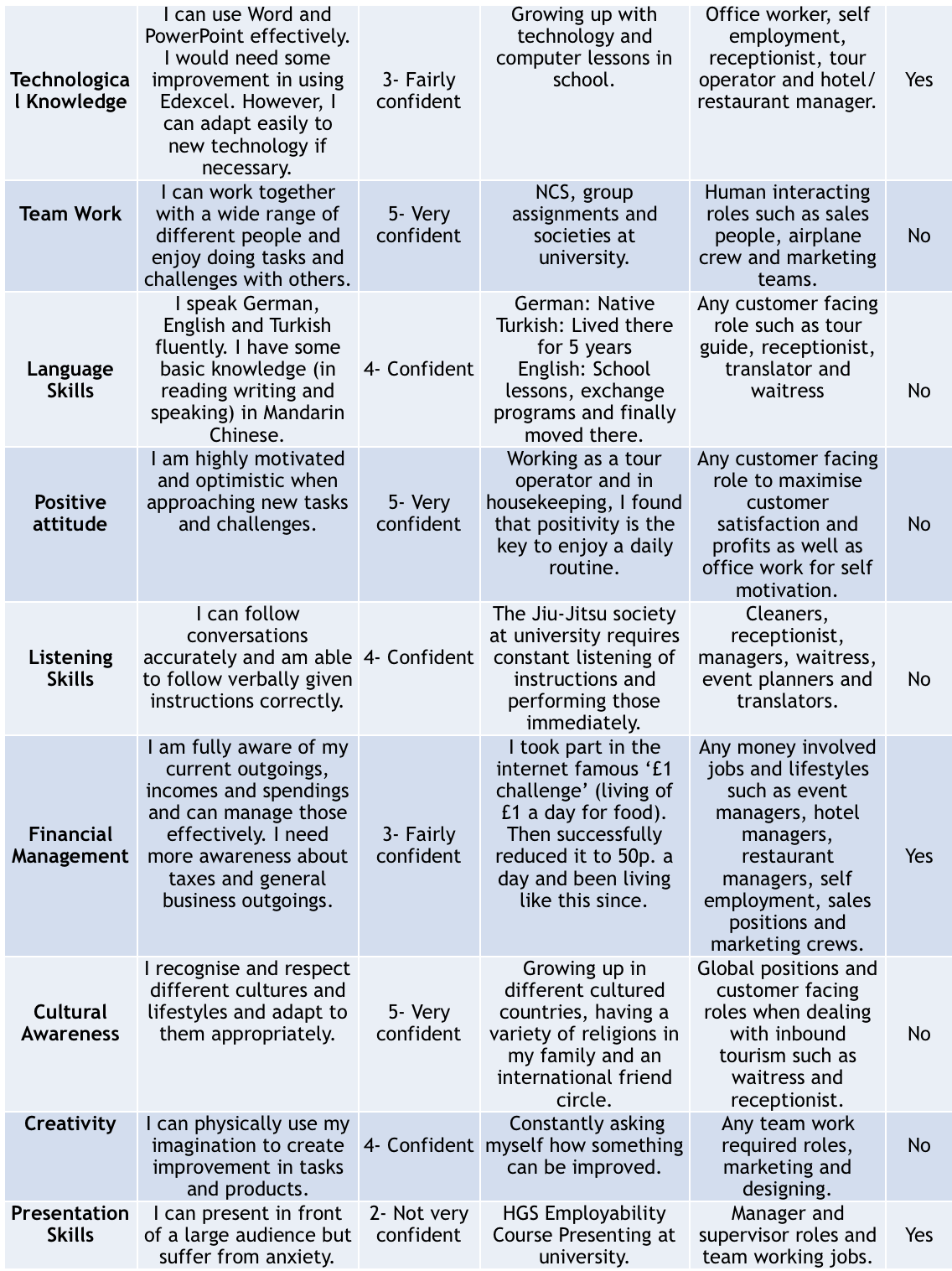 Self-Reflection
Personal experiences such as leaving my familiar home country and moving to Turkey in my late childhood without speaking the locals language challenged me with many difficulties. Some of these included adapting to new cultures and rituals; learning a new language fluently including academic terms; finding ways to overcome the language barrier and staying motivated and optimistic. Although it may have been difficult years, and at the time I perceived the experience as bad, looking back at it today I realise how it has positively impacted my professional and personal development. Not being able to exit the situation helped me to build cultural awareness. Which in this industry is a crucial skill, as dealing with different nationalities is a day to day occurrence. Although customer service can benefit from this skill, cultural awareness can advantage me in non customer (employers and employees) interactions. Also adaptability was an important factor which I developed during my time in Turkey. Being able to adapt to new environments is beneficial in any life situation, whether it may before starting college, university, a new job, the desire for international travel or moving to different countries. Life constantly requires one to be adaptable in to new situations, which proofs flexibility and openness in a person and provides an attractive skill to have when applying for a job. Another important skill is problem solving, which I developed by overcoming the language barrier. Combining problem solving with the creativity of carrying around pen and paper with me to draw objects, until I learned the words needed. I believe creativity and problem solving goes hand in hand; it can be a requirement to think outside the box in order to successfully solve a problem which is why employers look for both of these when recruiting new members. It is useful in the industry to maximise customer satisfaction, by listening to complaints and creating solutions, as well as educational tasks, which require problem solving and creativity. Overall it made me the person I am today. I am more aware of my surroundings and developed my emotional intelligence through experiencing life from different cultures. I also realise that consideration  and assisting others can be transferable skills and key elements of a successful career and personal life.
Professional experiences such as my work experience (Appendix A), developed several important skills which are essential in this industry. Cleaning rooms and replacing missing items improved my eye for detail which is an important skill in upper class hotel chains such as Four Seasons. Restaurant workers could also benefit from having an eye for detail for furnishing table layouts and rooms to enhance the overall appearance. Working under pressure is another skill I developed during this role and my kitchen/dining room assistant role. The fast paste environment includes cleaning dishes under pressure because of the limited amount of plates. This improved my stress tolerance which can help in everyday activities. Being able to work under pressure is useful in education and everyday jobs on account of the amount of work within a set time frame. I developed my confidence drastically after working as a tour operator in Turkey. By talking to strangers daily using multiple languages, I became more outgoing. These skills helped me in my personal life to make friends and voice my opinions. Confidence is also important when dealing with customers to convince them of the service provided for them when advertising the business. Overall, working taught me that actions have results and that I need to take responsibility for myself and my own actions.
During my time it university I've committed myself to practicing Jiu-Jitsu. This martial art requires 100% attendance as well as full commitment and an enthusiastic attitude throughout every session. Learning new moves is done by a verbal explanation followed by immediate demonstration by the learner. This developed my listening skills drastically through the embarrassment and disappointment that is felt when failing to complete a move from not having listened. Listening is crucial in for example lectures in order to effectively take notes. Also in every day life and job interviews when having to answer a question accurately it is important to listen. Commitment, and full attendance shows dedication to employers which is important  because it implies the employe is less likely to quit the job which can lower the companies labour turnover. This along with enthusiasm plus commitment helps personal development because it makes one less likely to quit in every day activities such as a new hobby or a diet.  I decided to start a new society and being a committee member presented me with responsibilities and required organisational skills. Having society members depend on me develops my dependability which improves others' trust in me including employers'. Communication with society members including the committee is extremely important to successfully organise events. Organising our first trip has developed my organisational skills through verbal, as well as written communication with others. These skills are important for organising and hosting  all events in the future whether it may be private, personal or public.
In the following table I have selected the needed skills for the industry which I need improvement of (1. Skills Audit Table).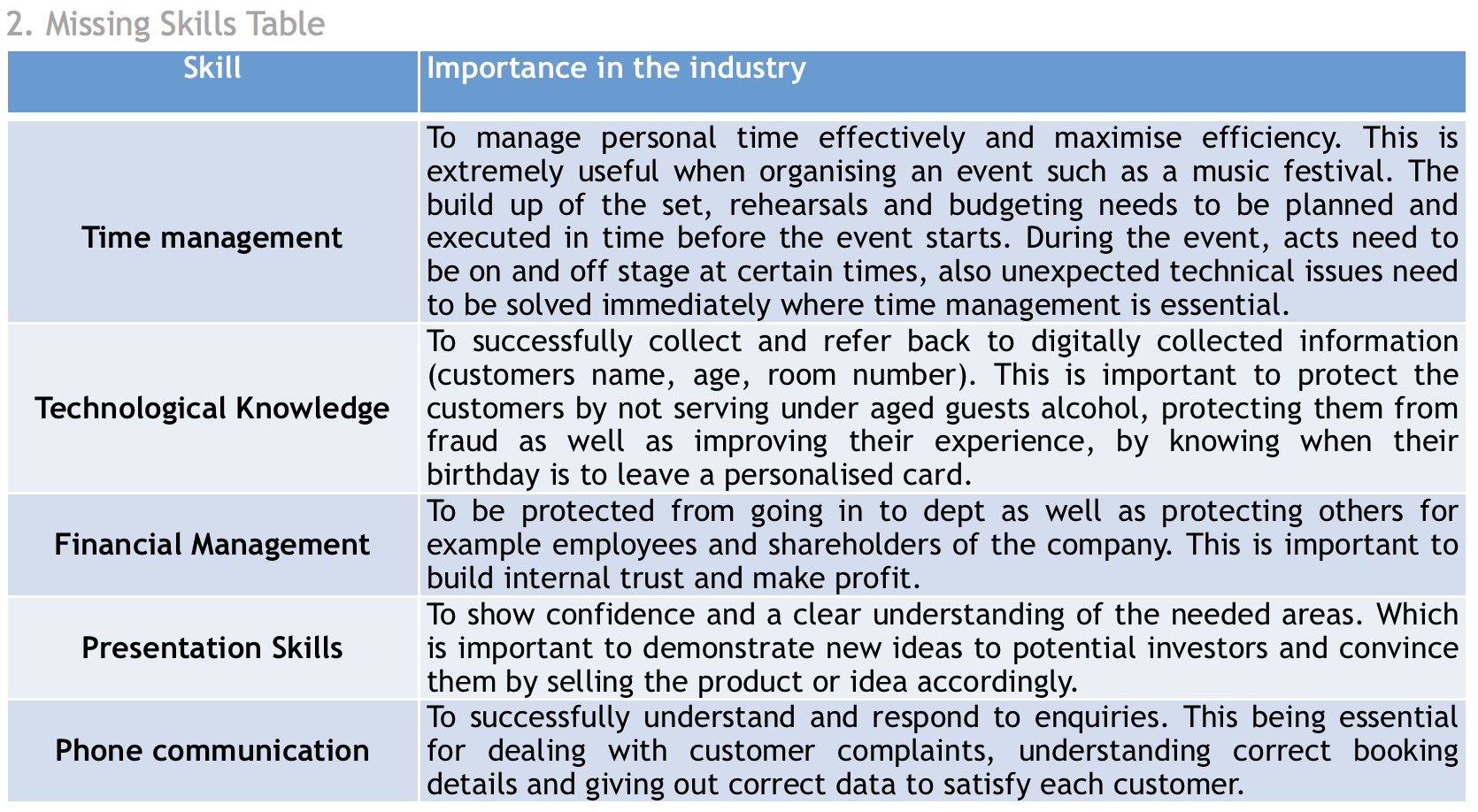 Action Plan
To improve my current weakest skills (2. Missing Skills Table), I have based my action plan on Kolb's Learning Cycle which can be seen on the picture below (McLeod, 2013).

Based on Kolb's Learning Cycle, I will select an action (5. Activities to Undertake Table) and go through the 4 steps of the diagram (1.Experiencing, 2.Reflecting, 3.Conceptualising, 4.Testing) to fulfil the circle and result in improved skills.
Out of the 4 learning styles, I consider myself being a mixture between a Visual and a Kinesthetic learner (2U Inc, 2016). Based on the description of these as seen below, I Will mainly use physical activities as well as once which I can visualise, to improve my skills more effectively.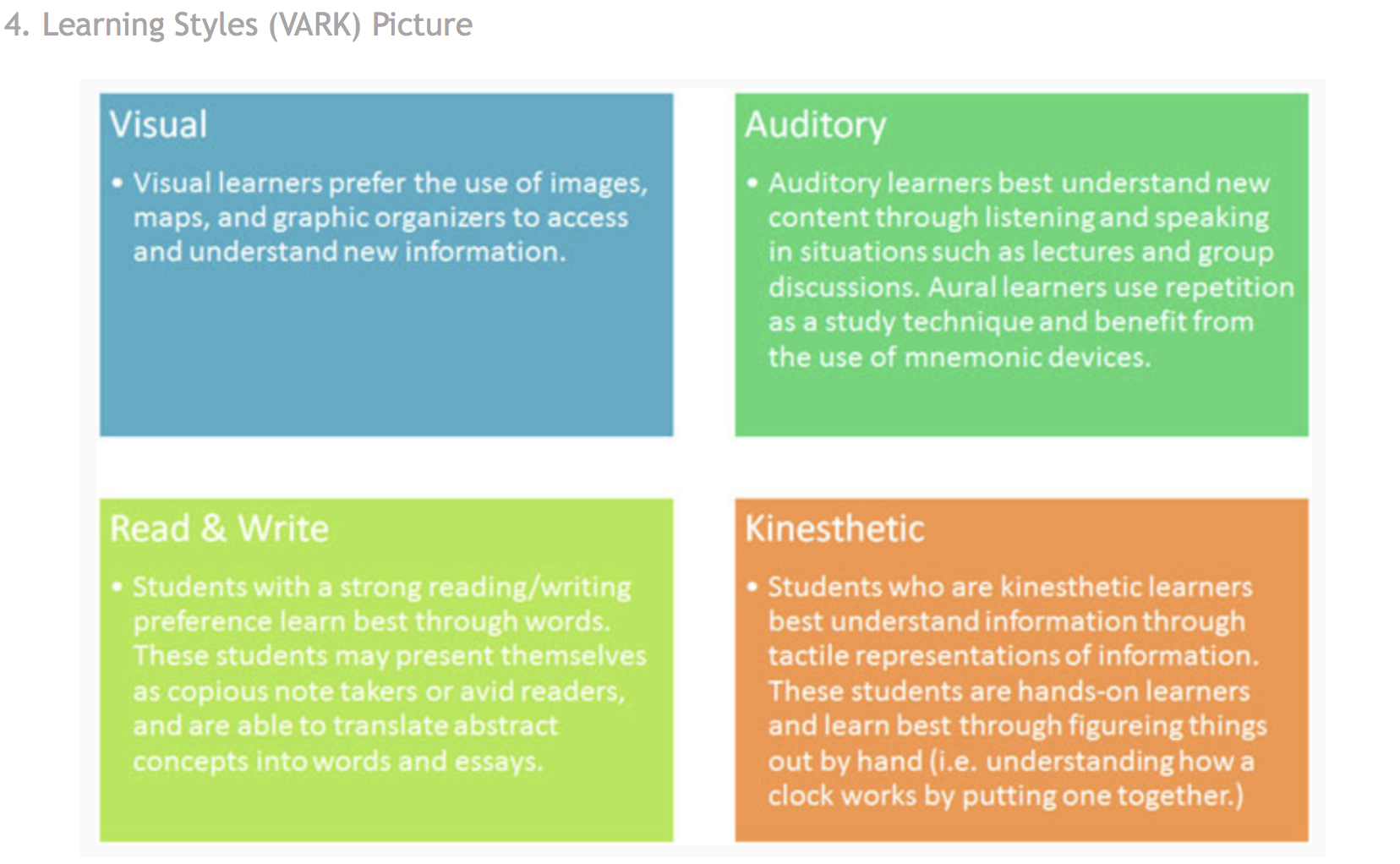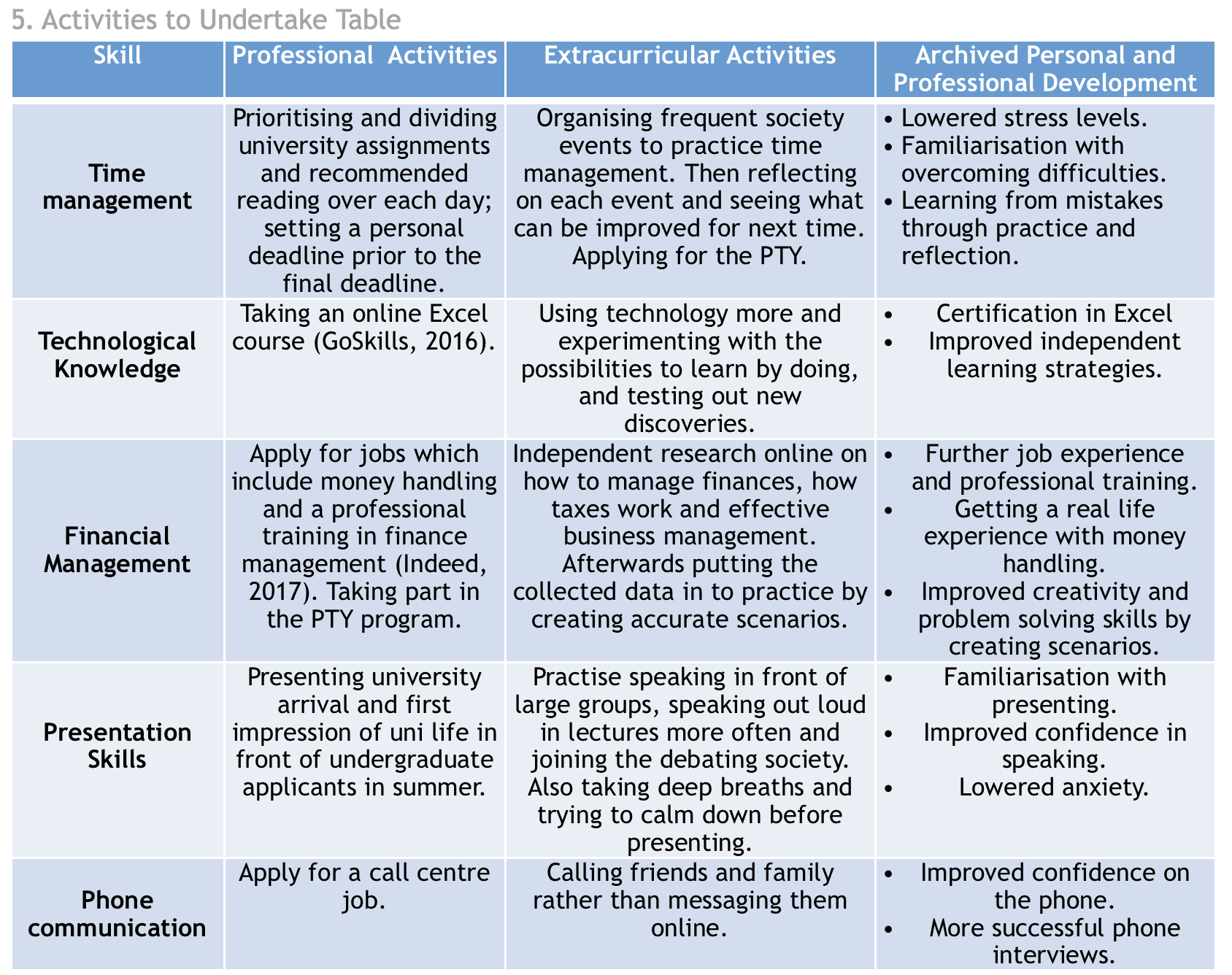 Conclusion
Overall, there are several ways of improving skills whether it be through professional activities or everyday life activities. The collection of personal skills starts at a young age and spans over an entire lifetime. Life brings many opportunities for constant personal improvement in education, professional life and personal life, as long as the individual takes the opportunities. This process is important to stay up up date with current business trends and maintaining mental health and self-satisfaction.
References
GoSkills. (2016). Microsoft Excel – Basic & Advanced. Available: https://www.goskills.com/Course/Excel. Last accessed 3rd Jan 2017.
Indeed. (2017). Trainee Finance jobs in Guildford GU2. Available: https://www.indeed.co.uk/Trainee-Finance-jobs-in-Guildford-GU2. Last accessed 5th Jan 2017.
McLeod, S. (2013). Kolb – Learning Styles. Available: http://www.simplypsychology.org/learning-kolb.html. Last accessed 28th Dec 2016.
People 1st. (2011). Skills important to the hospitality and tourism industry future in the United Kingdom (UK). Available: https://www.statista.com/statistics/302449/skills-important-to-the-hospitality-and-tourism-industry-future-in-the-united-kingdom/. Last accessed 19th Dec 2016.
WTTC. (2016). Total contribution of travel and tourism to employment in Europe from 2010 to 2026 (in million jobs). Available: https://www.statista.com/statistics/617583/travel-and-tourism-employment-contribution-europe/. Last accessed 19th Dec 2016.
2U, Inc. (2016). Learning Styles. Available: https://teach.com/what/teachers-teach/learning-styles/. Last accessed 3rd Jan 2017.
Appendices
Appendix A 
 CV: Note I have removed my CV on this upload due to data protection.