Nando's 
Word Count: 1755                      Author: Kimi Ural                                Created: 2016                    Grade: 71% (1st)
Executive Summary 
This report includes an analysis of Nando's service concept including a personal opinion of their service promise. Data has also been collected by frequent and non-frequent consumers of this brand through a questionnaire and online research. The main findings were that Nando's is overall a highly loved restaurant brand. However, there were some complaints and dislikes which resulted in recommendations of: Offering entertainment to occupy waiting time, installing self-service ordering machines to prevent bottlenecks and advertising their service delivery concept more clearly.
Contents
Introduction………………………………………………………………p2
Service Concept…………………………………………………………p2
Service Promise…………………………………………………………p3-4
Recommendations………………………………………………………p4
Conclusion………………………………………………………………p5
References………………………………………………………………p5
Appendices………………………………………………………………p6
Introduction
The Portuguese and African inspired restaurant Nando's was founded by Fernando Duarte and  Robert Brozin. Formed in 1987, the restaurant chain has branched out to over 20 countries and continues to expand. Also, the company has begun to make small movements into the fast food  and retail industry. Nando's prides and brands itself on their humble beginnings, using small details  such as headings in 87 degrees in order to remind them of the year in which the business was formed. The brand strives to stay true to their African and Portuguese origins by using fonts which represent the tradition of sign writing designed by African artist Marks Salimu. They also had a local NGO  (non- Government Organisation) design 3 new patterns for them to use "To honour our roots, they have African, Portuguese and Nando's touches in just the right places" (Nando's, 2016).
Service concept 
Nando's service concept, is to remember where they have once began regardless of the power and publicity they have today. Being the world wides most mentioned restaurant chain on social media in 2015 (Brandwatch, 2016), Nando's is one of the few chain restaurants which kept their traditional values and views since 1987. The restaurants core product adapts to fit the local customers needs in some countries based on their preferences. Fortunately, it does not go as far as mcdonaldization where the locals start to overtake the organisation idea so far that it looses its original meaning. Finding the perfect balance, Nando's achieves big popularity with this concept. Another point Nando's, is amazing at is paying attention to little details such as their logo which is very well thought out. From their cockerel Barci being the main logo with a heart placed in the middle symbolising the legend of Barci, to the apostrophe in 'Nando's' representing the birds eye chilli shown for the spice level options. The decoration on walls and menus utilises these symbols        along with a flame that depicts their flame-grilling technique and triangles which stand for family in South-Africa ensure their service concept of keeping values and traditions (Nando's UK, 2016). Nando's defers to the majority of restaurants, with their concept of having to stand to order at the till and pay up front. Afterwards, the customers then have to collect their cutlery and are able to choose from a variety of sauces from the side to take to their table. This process is self-service based, although it still requires queuing at a single line to single services (single line to multiple services on busy days), there is unfortunately no ability to place orders on an electronic device to prevent bottlenecks. A trend they do follow would be providing benefits to loyal customers, where frequent customers can collect chillies (points) on their loyalty card to get free dishes which also underlines the service concept.
Service Promise 
Looking at Nando's Strengths, TNS used their TRI*M method to analyse success and growth through Nando's customer relationship. The following image (1. Nando's TRI*M) will show the assessment results along with another restaurant chain as a comparison (2014, p12-13).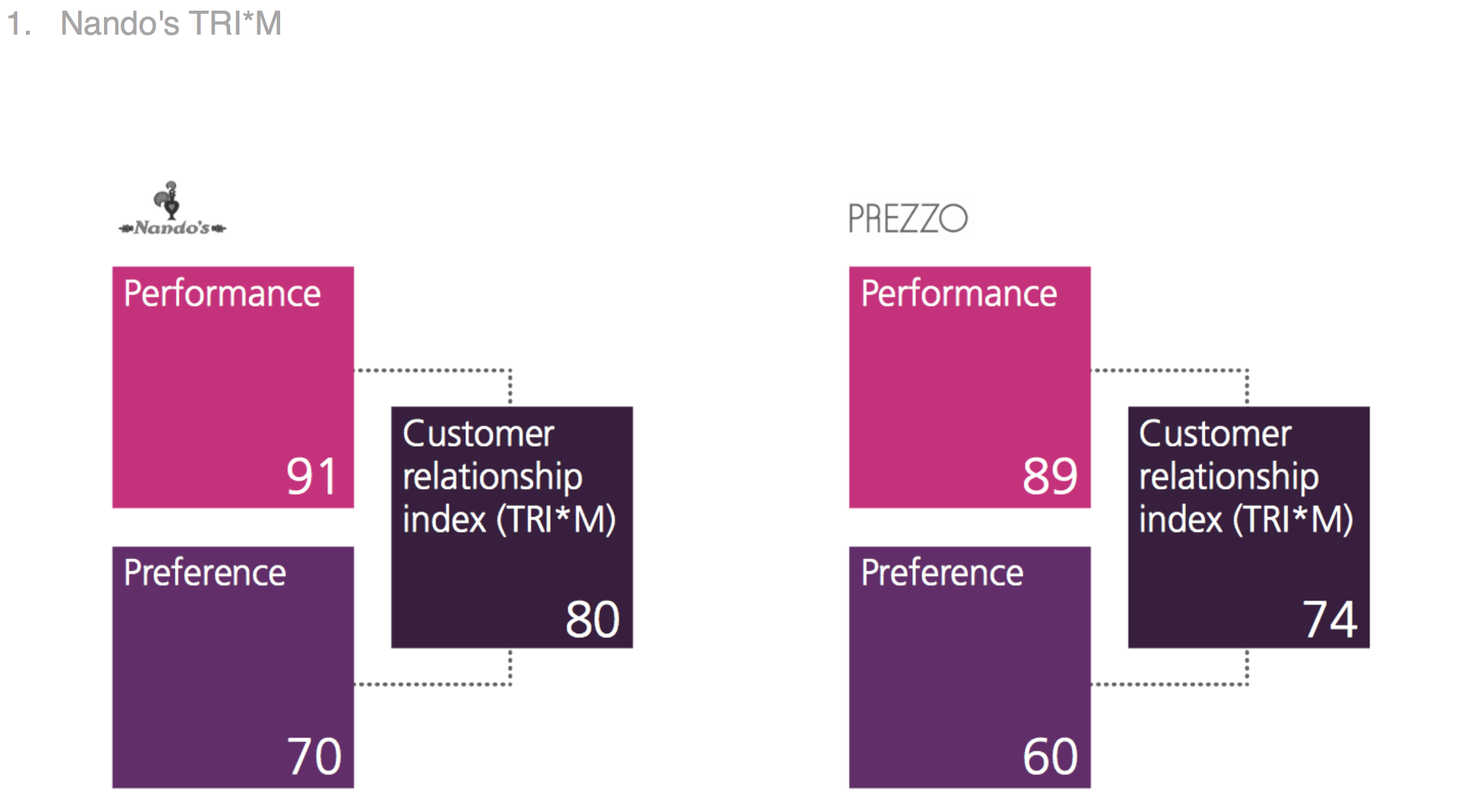 Considering that 69 TRI*M was the average score out of the 12 restaurants which were examined, Nando's did an excellent job with a TRI*M index of 80 and landed the first place. Comparing it to Prezzo the graph shows that there is a greater preference for Nando's by the 4.000 customers who were questioned (2014, p2). Having a preference index of 70 is highly beneficial to Nando's and shows that the majority of consumers prefer Nando's over other restaurants. This shows that they must be meeting their service promise through the high customer relationship index they have received. Numbers as these can only be achieved through a solid service concept, this makes the brand memorable to customers and creates loyalty which Nando's definitely has. Therefore, creates a great service concept outcome of high customer satisfaction, which benefits the company through profit.
Looking at Nando's weaknesses, recent surveys show that customers were unsatisfied with some service delivery aspects such as the pre-process waits and in-process waits which also affected the food temperature negatively (Questionnaire Appendix).
The following table will show Nando's service delivery strengths and weaknesses based on collected data and personal experiences.
Recommendations 
Since recent surveys have proven that Nando's long waits were the most dissatisfied aspect (Questionare Appendix), which is also supported by the TripAdvisor review of another customer (Joe, 2016). In order to prevent bottlenecks, Nando's could consider installing self-service machines like those in McDonald's (Johnson, 2016). There can still be one worker at the till to keep the human interaction, but several machines on which to place orders could be added. This would help Nando's to reduce the cashiers work load and cost and time effectively use labourers for their waiter and kitchen crew roles rather than placing them in the order placing area. This will also solve the problem of having the food delivered cold, reducing stress for the staff resulting in more efficient delivery of the food when it comes from the flame. However, there may not be much they could do to shorten the time customers wait for their food as it is freshly made. Therefore, Nando's could have some entertainment programs in the restaurant like the Kung Fu Lo Mein in HaiDiLao Hotpot (Yaqoo, 2012). The will make the customers waiting time feel shorter, according to the physiology of waiting lines which David H. Maister confirms saying: "Occupied Time Feels Shorter Than Unoccupied Time." (2005, p3).
Food variety was another shortcoming customers miss according to recent questionnaires (Questionnaire Appendix). Finding a simple solution to this which also overcomes a possible future issue would be offering vegetarian dishes such as Caldo Verde and Migas which are traditional Portuguese dishes (Foote, 2014). Doing this, Nando's would not only solve the variety problem while staying true to their roots but also open a new target market for themselves.
Another point that was made on TripAdvisor by a first time customer was that their service delivery concept was too unclear (Joe, 2016). Nando's, having an unusual way of ordering food by queueing at the desk and paying up front, to then wait for the food and to get own their own cutlery. This can be confusing as seen by this customers experience if not made clear how it works. Therefore, Nando's could include their self-service concept in their advertisements (website, TV, banners outside the restaurant) so that new customers know what to expect to prevent disappointment.
Lacking in quality results in a bad repetition which Nando's needs to try to avoid. Having burned food served to a customer (Michal284, 2016) is unacceptable. This can only be solved by offering the chefs and kitchen crew a better training, including regular quality checks.
Conclusion
Overall, Nando's is one of the consumers most known and preferred restaurant. Staying true to their origins and traditions makes the company come across more natural and humanised to customers. It may even give Portuguese and African customers a feeling of home when dining in one of their UK based restaurants. Other customers may feel challenged and excited through trying something new which is not found in their country. Ratings like these, are great customer outcomes, they satisfy the customers and give them memorable experiences, which is what Nando's tries to achieve. Positive experiences are the best way to retain knowledge, which makes customers come back and eventually generates loyal customers and frequent visitors. In a world which is build up on mass production and no personality or originality in products and services to save money, people are starting to crave the once commonly existing 'personal touch' and culture in a product. This is why Nando's is successful. By sticking to their African and Portuguese roots.
References
Brandwatch. (2016). Social media mentions for chain restaurants worldwide in 2015, by brand*. Available: https://www.statista.com/statistics/462552/chain-restaurant-social-media-mentions-worldwide/. Last accessed 28th Dec 2016.
Foote, K. (2014). Hold The Pork: Vegetarian-Friendly Finds In Portugal's Land Of Meat And Fish. Available: http://epicureandculture.com/vegetarian-friendly-portuguese-food/. Last accessed 5th Jan 2017.
Joe, L. (2016). A production line 'dining' experience. Available: https://www.tripadvisor.de/ShowUserReviews-g186338-d2216928-r363927410-Nando_s-London_England.html#mtreview_363927410. Last accessed 30th Dec 2016.
Johnson, H. (2016). Fast food workers are becoming obsolete. Available: http://www.businessinsider.de/self-service-kiosks-are-replacing-workers-2016-5?r=US&IR=T. Last accessed 5th Jan 2017.
Nando's UK. (2016). The Story of Our New Look. Available: https://www.youtube.com/watch?v=48em4WJ2U3c. Last accessed 28th Dec 2016.
Nando's. (2016). Explore, Our Brands Story. Available: https://www.nandos.co.uk/our-brand-story/. Last accessed 27th Dec 2016.
Maister, D. (2005). The Psychology of Waiting Lines. Available: http://citeseerx.ist.psu.edu/viewdoc/download?doi=10.1.1.487.3938&rep=rep1&type=pdf. Last accessed 5th Jan 2017.
Michal284. (2016). Never again. Available: https://www.tripadvisor.de/ShowUserReviews-g186338-d2216928-r355976507-Nando_s-London_England.html#REVIEWS. Last accessed 30th Dec 2016.
TNS (2014). Cracking the Customer Code Chain Restaurants. London: TNS. p12-13.
TNS (2014). Cracking the Customer Code Chain Restaurants. London: TNS. p2.
Yaqoo. (2012). Have some Gongfu noodles. Available: http://www.haidilao.com/sg/index.php?m=content&c=index&a=lists&catid=38. Last accessed 5th Jan 2017.
Appendices